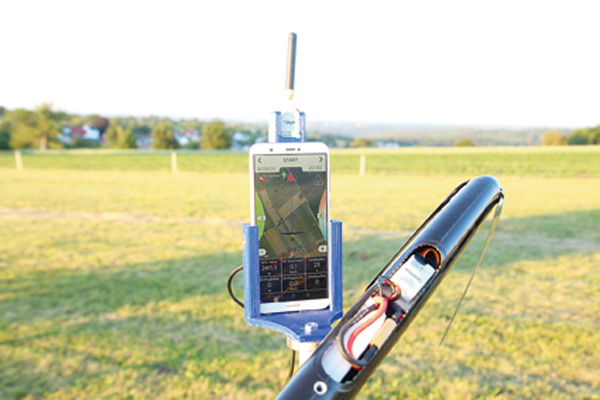 Competition Category GPS Triangle
What is GPS Triangle?
GPS Triangle competitions build the bidge between modelsoaring and full size soaring sport. It contains all exciting facetts of Crosscountry soaring while standing on an airfield. The task is to fly around a virtual triangle as many times as possible while within a given time only using the power of thermal activity to maximize the covered distance.
This is all possible by using a small, but high-perfomance GPS-navigation system, which projects the flightpath of the models onto a ground based screen.
Meanwhile there are three classes flown in GPS-Triangle Competitions.
– Lightclass: lightweight models up to 4m span and 30gr/sqdm surface-loading.
– Sportclass: Large non-scale gliders with a maximum of 5m span and 75gr/sqdm wing loading (max. 7kg)
– Scaleclass: Scalegliders of mainly 1:3 scale with a maximum of 115gr/sqdm wing loading.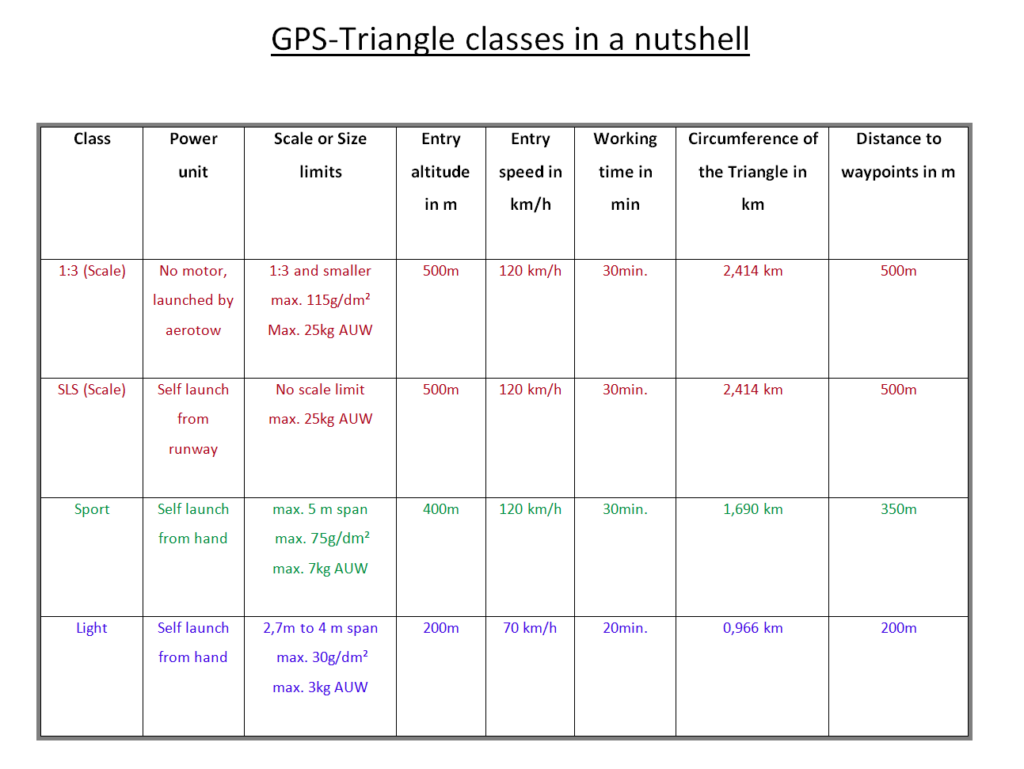 The tasks for each class differ as to adopt the tasks to the performance envelope of the aircraft.
Therefore the triangle-sizes as well as the maximum entry altitude and -speed is depending on the competition class.
You can find detailed information about specific rules and all necessary gadgets under following link: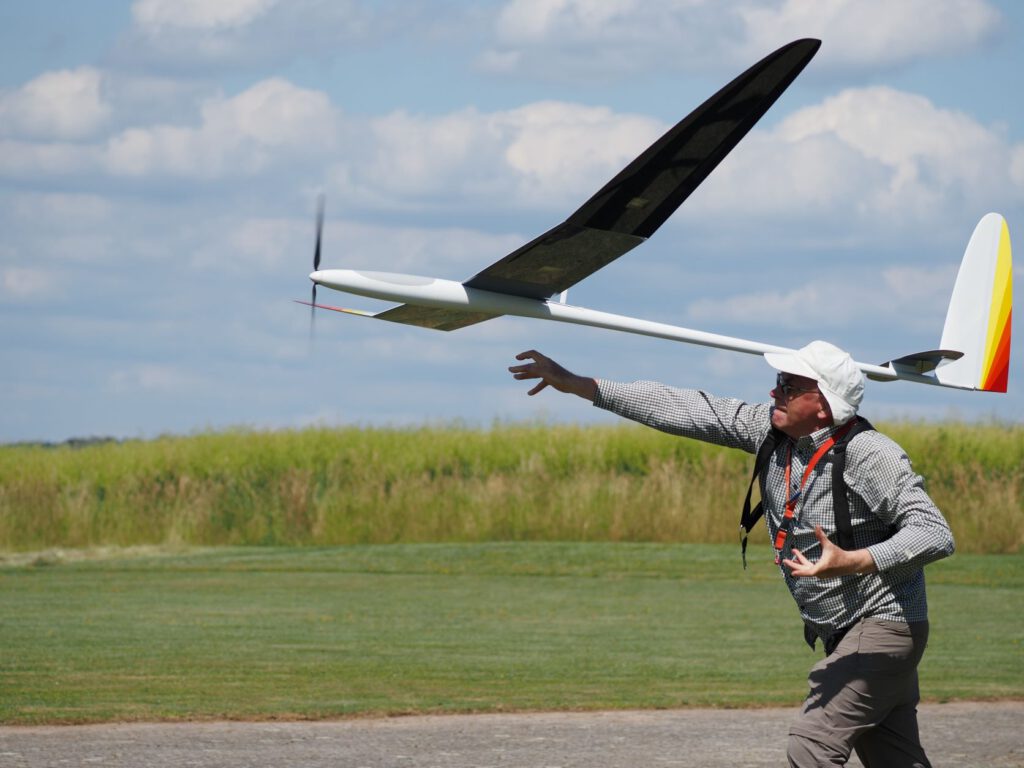 Read more about GPS…
The fascinating aspects of the GPS Triangle competition are:

• a high level of activities on the airfield ( f.e. glider towing, self-launch, high speed passes,
several models airborne at the same time)
• a maximum of flight time for all participants involved
• Very wide range of tactical flight decisions in connection with the best possible teamwork between pilots and navigators
• Experiencing extremely high-performing gliders
• complex flight task with clear and simple competition rules
• Only small effort in organizing and only a few helpers are necessary to organize a GPS-Triangle competition.
Find more information about GPS at Facebook:
https://www.facebook.com/groups/221517854586852
Upcoming CONTEST Events
GPS results
Final Results 2022 Winners in Scaleclass:
1st: Holger Genkinger GER (Schambeck Quintus / Schambeck AN-66 / Chocofly Nimbus-2c)
2nd: Andreas Kunz GER (Schambeck ASW-22 race)
3rd: Daniel Aeberli SUI (Chocofly Diana-2 / Chocofly ASW-17 / Chocofly Nimbus-2c)
Total number of competitors: 37 from 8 Nations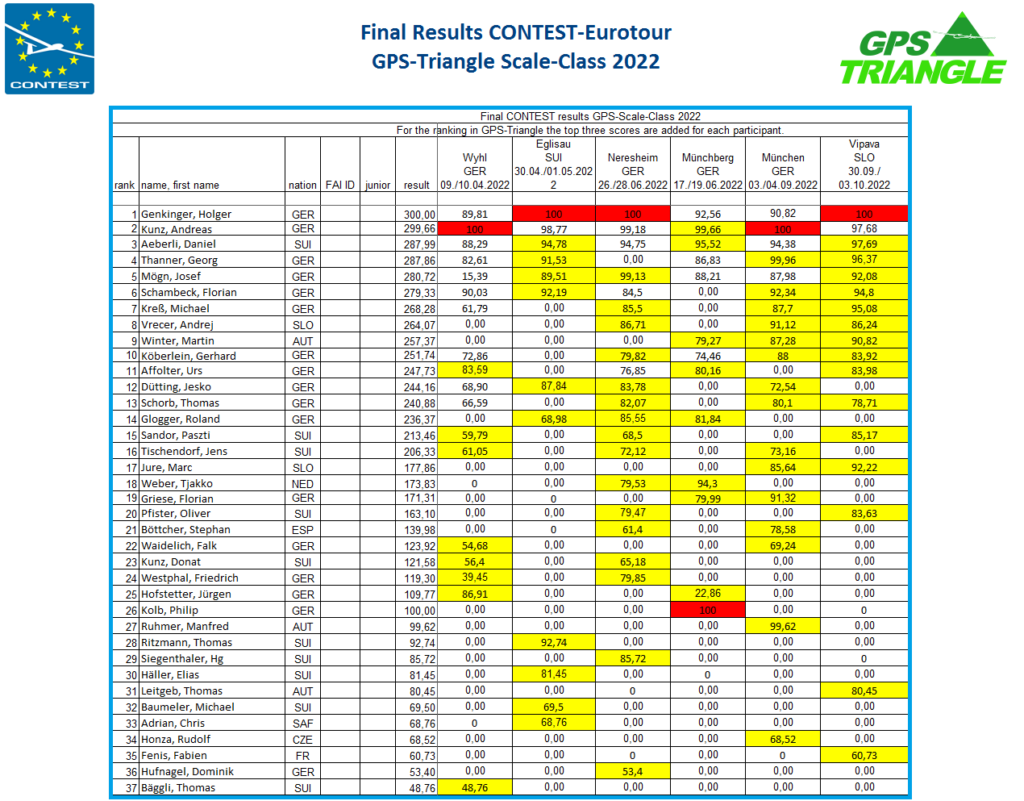 Final Results 2022 Winners in Sportclass:
1st: Philip Kolb GER (Samba-model Pike Paradigm / Baudismodel Calvados)
2nd: Jens Geider GER (Chocofly Appollo 46)
3rd: Hans-Peter Bell GER (Chocofly Appollo 46)
Total number of competitors: 20 from 2 Nations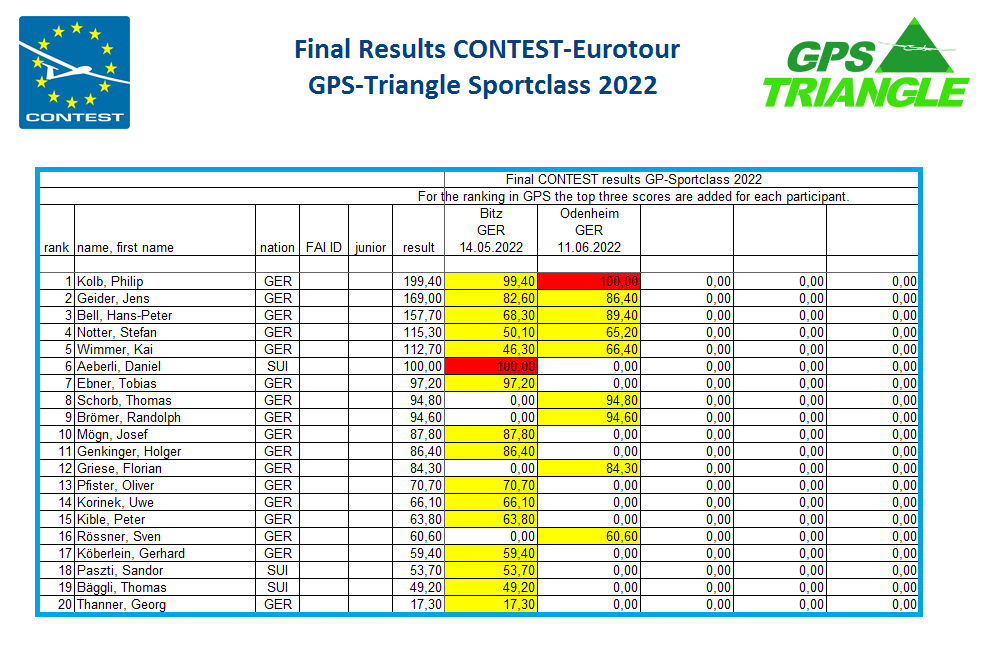 Final Results 2022 Winners in Lightclass:
1st: Philip Kolb GER (Samba-model Prestige 2 PK)
2nd: Benjamin Dähn GER (Samba-model Prestige 2 PK)
3rd: Tjakko Weber NED (Samba-model Prestige 2 PK)
Total number of competitors: 41 from 5 Nations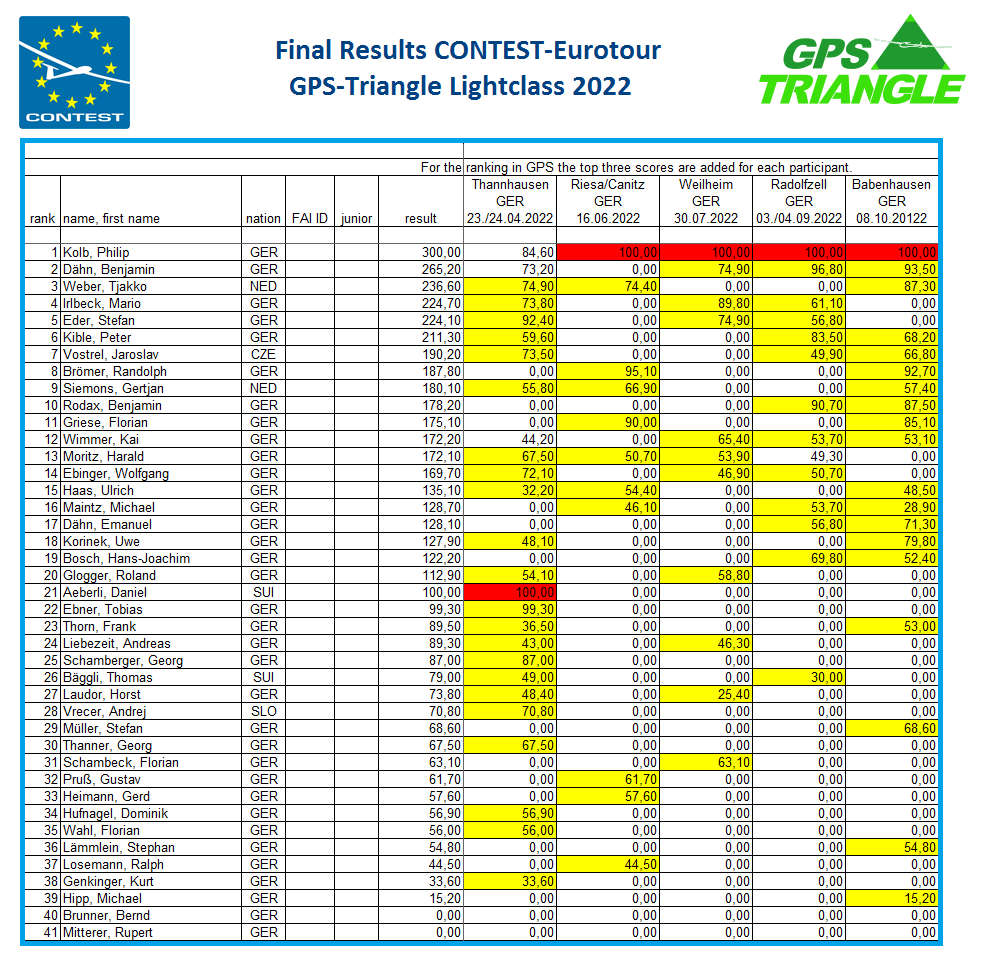 Find more GPS-results at:
http://results.gps-triangle.net/events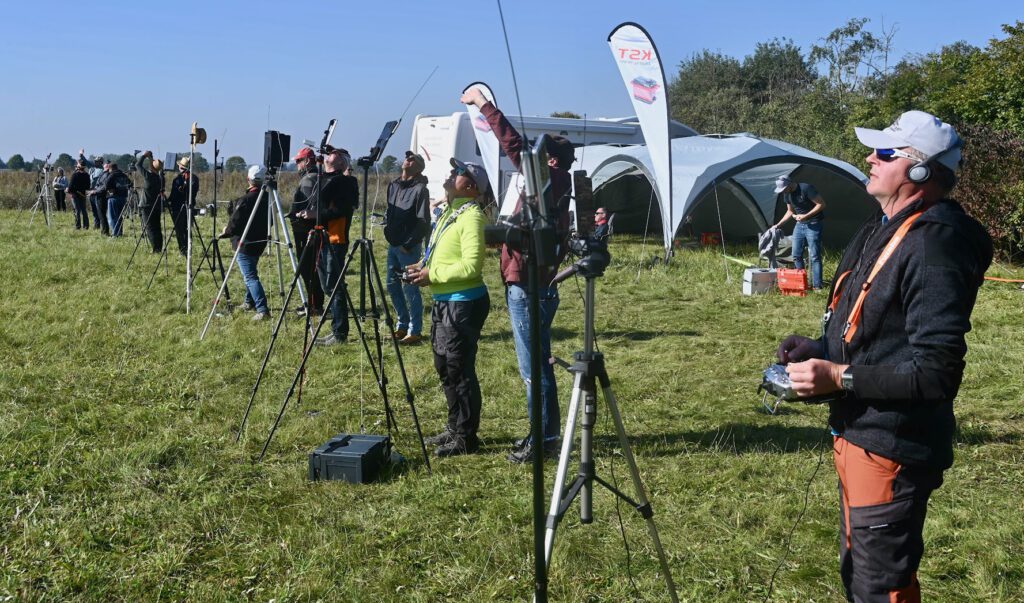 GPS Triangle Tourmanager
Philip Kolb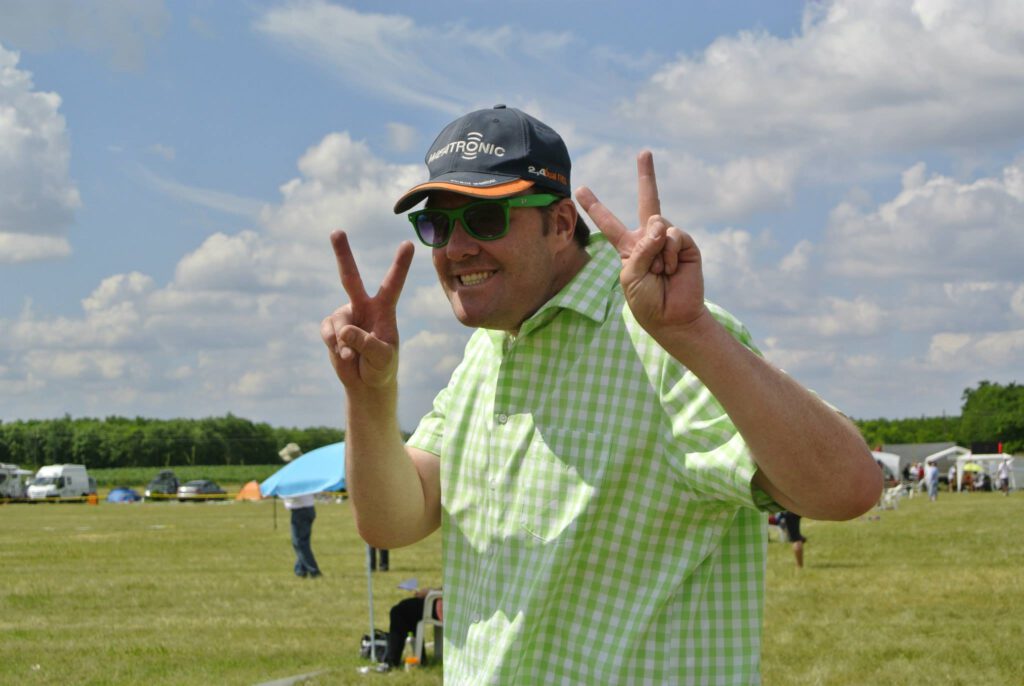 My passion for flying started at a very young age and as my parents saw that my eyes were always skybound, they bought some rubber powered free flight planes ("toys moreover") to support this.
From these moments on, life without planes was unthinkable. That was at the age of three.
Especially my dad supported me where ever possible, built freeflight aircraft together with me and finally searched a model airplane club we could join.
From that moment on I was hooked on gliders and figured out that thermal soaring was the real challange.
We had highstarts at that time and were happy when we managed 5 min flights!
As I loved challange, I soon got hooked to the thought of competitive soaring. With some local contests around my hometown area my dad and me went to a local competition almost every weekend while I still was a Junior.
At the age of 18 and my drivers licence in my pocket I went to my first international F3J competitions (f.e. Holland Glide 1994).
That was the beginning of my competition career which brought me to competitions in many classes like F3J, F3B, HLG, Crosscountry and GPS-Triangle soaring making friends all over the world.
Most important model airsports achievements:
– 4 times German Champion F3J 1998, 1999, 2000, 2011
– 13 times F3J CONTEST-Eurotour Overall-Winner
(1999, 2001, 2003, 2004, 2005, 2006, 2007, 2008, 2009, 2010,
2011, 2012, 2014)
– 2 times individual F3J European Champion (2005, 2013)
– 3 times F3J Team European Champion (1997, 2005, 2013)
– 3 times F3J Team World Champion (2004, 2006, 2008)
– 5 times individual World Champion GPS-Triangle
(3 times scale class: 2013, 2015, 2017,
1 time SLS-class: 2017,
1 time Sportsclass: 2022)